Understanding Military Sales – Getting Started
Most lubricant manufacturers at one time or another have inquired to whether their lubricants, hydraulic fluids, or greases are procured by the U.S. Military. Without a working knowledge of the U.S. Department of Defense's (DoD) procurement branch (The Defense Logistics Agency), and their procedures, policies, information sources, and slow moving processes, manufacturers' forays into military sales are usually are short lived and end with a "That's not for us!" conclusion. However, with patience and perseverance, a constantly high quality product (and a love of acronyms!), companies that succeed find supplying the military a rewarding market.
Fortunately, learning the basics, especially where and how to start, has gotten easier for lubricant manufacturers over the past 10 years. Understanding the procurement principals and procurement process can significantly ease the frustration and time spent entering into military sales.
Until the mid 2000's, almost all military procurement was done through a cumbersome paper-based bid process with the DoD. Contracts were awarded either on a "spot basis", or through a one year (with multiyear options) Long Term Agreement (LTA). The finished packaged lubricants were usually shipped
directly to one of the two major U.S. Government depots, either Richmond VA or Tracy CA. In 2007, through the congressional mandated Base Realignment and Closure Act (BRAC), the DoD "privatized" the procurement, warehousing, and distribution of all packaged petroleum products, bulk oil shipments, lubricants, and chemicals under the new "POLCHEM" contract program. This 10 year contract (5 year base, with a 5 year option), with an overall contact value budgeted at $6 billion, was awarded to SAIC of Fairfield, NJ. Under the POLCHEM contract, SAIC, with their 8 strategically located U.S. warehouses, was now responsible for all procurement, warehousing, inventory level management, supplier base management, and delivery of the POLCHEM products to U.S. military and federal civilian agency locations around the globe.
SAIC, partnered with DLA's sub-agency Defence Supply Center-Richmond, is the prime contractor with the responsibility of the procurement of the 4,000+ NSNs specified in the POLCHEM contract. A NSN (National Stock Number) is a unique 13 digit numeric code for identifying standardized items procured for the U.S. Department of Defense. NSNs are also recognized by all NATO countries. Every lubricant product that is procured for the U.S. Military has its own NSN. Even the same product in a different package/container has a unique NSN!
All NSNs are grouped into Federal Supply Classes (FSCs). A FSC is a 4 digit field used to group products in logical families. The first 4 digits of a NSN designate the FSC. The two principal Federal Supply Classes (FSC) managed by SAIC and applicable to the Lubricant Industry are 9150 (Oils and Greases: Cutting, Lubricating, and Hydraulic Fluids), and 6850 (Miscellaneous Chemical Specialties).
Determining whether your product is procured for the military can be confusing. The product can either be listed as a commercial item, or fall under a military specification (MILSPEC), or sometimes both! Either way, if the product is procured, a NSN exists for that product. Keep in mind that military packaging requirements very often differ from the commercial/industrial requirements. The military likes their lubricants and oils in metal can packaging, so the need for your product in the standard commercial one gallon plastic container might not be a listed NSN procurement item, but the same product in a metal can might have significant volume potential. As you might guess, military packaging and labeling is an art. It really is a time-in-grade process. In the beginning, be prepared to ask a lot of questions of the prime and secondary contractors, as well as DLA. Fortunately, all involved in the supply chain realize we are all pulling on the same side of the rope, and friendly help is usually just a phone call away.
Some 9150 products are procured by tradename, while most other products are procured by MILSPEC. A MILSPEC (or "military specification") is a U.S. Department of Defense standard used to achieve strict lubricant standardization objectives. Most of these lubricants are "Critical Application" items. These are lubricants/fluids that are critical for flight control, weapons platform functionality, and surface warfare propulsion. Supplying a "Critical Application" MISLPEC requires a lengthy Qualification process, with the end result having your product listed on the "Qualified Product List" or "QPL". The "QPL" is a DoD controlled list of companies and their unique formulations that have been certified by the military custodial authority, whether it be Naval Sea Command, Naval Air Command, the Air Force, or the Army, that meets or exceed all the physical properties and performance requirements specified in the product's applicable MILSPEC. The physical properties tests that need to be met, as well as the performance requirements, can be upwards of 30 different tests! As one can guess, meeting a MILSPEC
can be a formulator's nightmare. But the effort has its rewards. Once issued a QPL, the company has the ability to bid and be awarded QPL required contracts and spot orders.
Access to FSCs, NSNs, Commercial Items, and MILSPEC databases are available on the web. A little time and effort spent researching your products with these resources could open up new horizons in military sales!
For more information on Radco MILSPEC products please reach out to our MILSPEC team.
---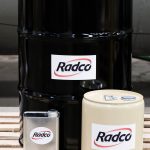 ---